Land a relevant student job in Denmark
---
Date and time
Thursday 28. September 2023 at 14:30 to 19:30
Registration Deadline
Monday 18. September 2023 at 11:25
Location
CBS - Solberg Plads, SPs05, Solbjerg Plads 3, 2000 Frederiksberg CBS - Solberg Plads, SPs05
Solbjerg Plads 3
2000 Frederiksberg
Land a relevant student job in Denmark
---
Land a relevant student job in Denmark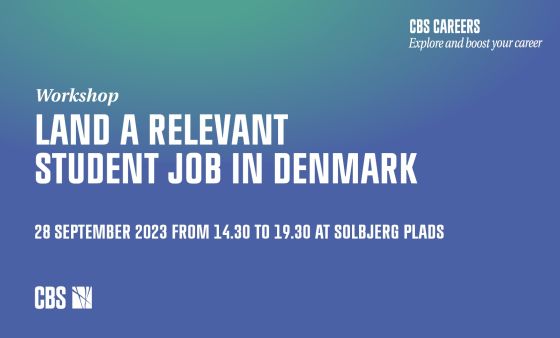 Are you an international master student? Come join this workshop that will set you up for lasting success in Denmark by identifying your potential for growth.
You will get tools and tips on how to land a relevant student job as it is a great way to kick-start your career in Denmark together with other international students. You will also learn how to succeed in the Danish job market and gain insight into your potential for growth.
In the workshop, you will get the chance to receive feedback on your personal profiles including your work style, communicational preferences, strengths, and weaknesses in relation to your job search and career. 

Why join?
You will get:
- Tools for landing a relevant student job

- Cultural knowledge and insights to navigating in the Danish job market

- Personal feedback and guidance

- Self-awareness about your personal preferences, strengths and
  weaknesses, and how to address these in your job search, in jobs, and in
  your studies

Preparation
You will have to bring your CV and complete a 20 minute questionnaire about your personal profile. We will contact you in September with more information.
Please note this workshop is only for international students (preferably master students) , and it is a collaboration between CBS Careers and Ambitious Teams.
Organizer Contact Information
Copenhagen Business School (Konferenceservice)
Phone: +45 3815 3815
careers@cbs.dk
Organizer Contact Information
Copenhagen Business School (Konferenceservice)
Phone: +45 3815 3815
careers@cbs.dk