How to present yourself with confidence with KPMG
---
Date and time
Wednesday 4. October 2023 at 15:30 to 17:00
Registration Deadline
Wednesday 4. October 2023 at 15:30
Location
CBS - Graduate House, HN313, H. V. Nyholms Vej 21, 2000 Frederiksberg CBS - Graduate House, HN313
H. V. Nyholms Vej 21
2000 Frederiksberg
How to present yourself with confidence with KPMG
---
How to present yourself with confidence with KPMG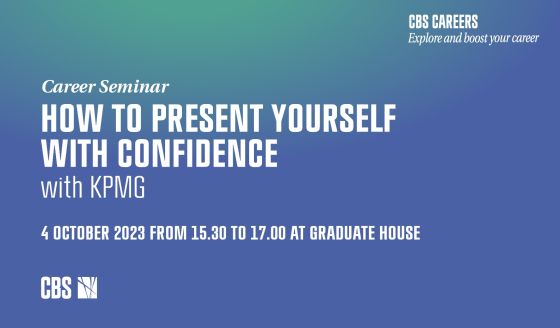 Why join?
One thing is to master one's CV and job search. But what's next?


No matter what you do in your coming career, whether it's a job interview, a presentation,
sales pitch or a networking event – you need to master the skills of public speaking.
It's not enough to present your professional strengths and competencies, but your communication skills and an understanding of how your mind works, is key in your coming career and everything you do.
Academically, it can also enhance your confidence in oral exams and thesis defense. 


This career seminar is a collaboration between CBS Careers and KPMG. 
Organizer Contact Information
Copenhagen Business School (Konferenceservice)
Phone: +45 3815 3815
careers@cbs.dk
Organizer Contact Information
Copenhagen Business School (Konferenceservice)
Phone: +45 3815 3815
careers@cbs.dk