Build your LinkedIn profile with Deloitte
---
Date and time
Wednesday 25. October 2023 at 15:30 to 17:00
Registration Deadline
Wednesday 25. October 2023 at 15:30
Location
CBS - Graduate House, HN213, H. V. Nyholms Vej 21, 2000 Frederiksberg CBS - Graduate House, HN213
H. V. Nyholms Vej 21
2000 Frederiksberg
Build your LinkedIn profile with Deloitte
---
Build your LinkedIn profile with Deloitte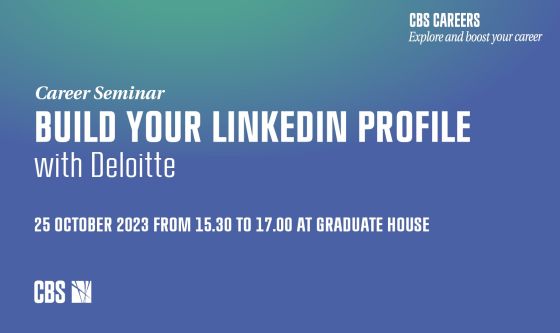 Do you want to learn how to become an expert in developing your personal brand on LinkedIn? Then join this seminar on how to build your profile on LinkedIn.  
Why join? 
In this seminar, you will get an introduction to LinkedIn and the tools you need to build an effective profile on LinkedIn with limited work experience. You will also get a good understanding of the algorithm, and how a well-built profile on LinkedIn will help you grow your network, catch the attention of potential recruiters, and improve your overall chances of landing a job that sparks your interests. 
This career seminar is a collaboration between CBS Careers and Deloitte.
Organizer Contact Information
Copenhagen Business School (Konferenceservice)
Phone: +45 3815 3815
careers@cbs.dk
Organizer Contact Information
Copenhagen Business School (Konferenceservice)
Phone: +45 3815 3815
careers@cbs.dk