How to succeed in the Danish job market with DJØF
---
Date and time
Tuesday 26. September 2023 at 15:30 to 17:00
Registration Deadline
Tuesday 26. September 2023 at 15:30
Location
CBS - Graduate House, HN213, H. V. Nyholms Vej 21, 2000 Frederiksberg CBS - Graduate House, HN213
H. V. Nyholms Vej 21
2000 Frederiksberg
How to succeed in the Danish job market with DJØF
---
How to succeed in the Danish job market with DJØF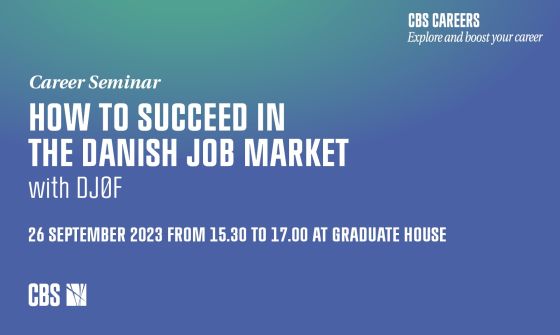 Do you want to understand the Danish workplace culture and get off to a good start in your first job in Denmark? Then join this seminar about the Danish job market. 
Why join? 
In this seminar, you will get insights into the Danish job market, Danish business etiquette and get tips on how to start your job search. You will learn about the importance of having a network and get tips on how to network. You will also learn how to structure a CV and Cover Letter in Denmark. We will show you examples of a successful CV and Cover Letter and give you Do's and Don'ts. 
Furthermore, you will get an introduction on how to make a good video resume. 
This career seminar is a collaboration between CBS Careers and DJØF.
Organizer Contact Information
Copenhagen Business School (Careers)
Phone: +45 3815 3815
careers@cbs.dk
Organizer Contact Information
Copenhagen Business School (Careers)
Phone: +45 3815 3815
careers@cbs.dk